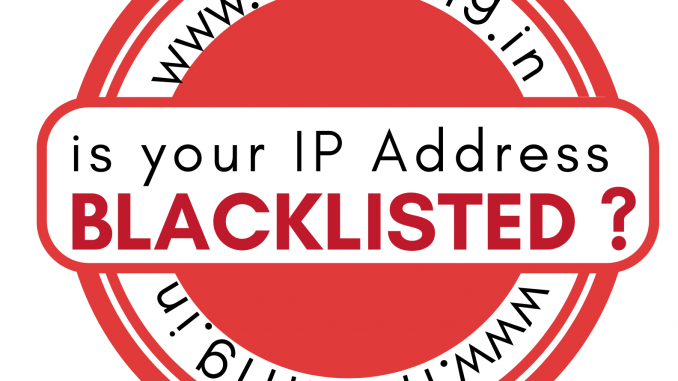 What is IP Address Blacklist
It is a list of IP addresses or domains that are known sources of spam; Often referred to as Domain Name System Blacklist (DNSBL). The tech built on top of DNS and most message transport agent – MTAs can configure to reject or flag messages that have sent from a blacklisted IP. It is important to remember that DNSBL is a medium and not a specific list or policy. In this context, the system refers to the criteria that a DNSBL applies to decide which senders should be blacklisted and which should not. The plan also includes standards for delisting and the process of communicating with blacklisted senders.
Blacklisting occurs for any reason, usually when there is a suspicion of sending spam to an IP address. Continuously blacklisting will affect your IP reputation because your IP address will be recognized as a regular source of spam. The owner of the IP falls outside the IP address they are responsible for, so preventing spam is essential to avoid a reputation for spam behavior.
How to check if IP address is blacklisted?
To check if an IP address is blacklisted or not, you can visit "IP Address BlackList Check" from IP Tools menu. Once you entered an IP address you will get the list of spam reporting services colored in Red by which your IP Address is blacklisted.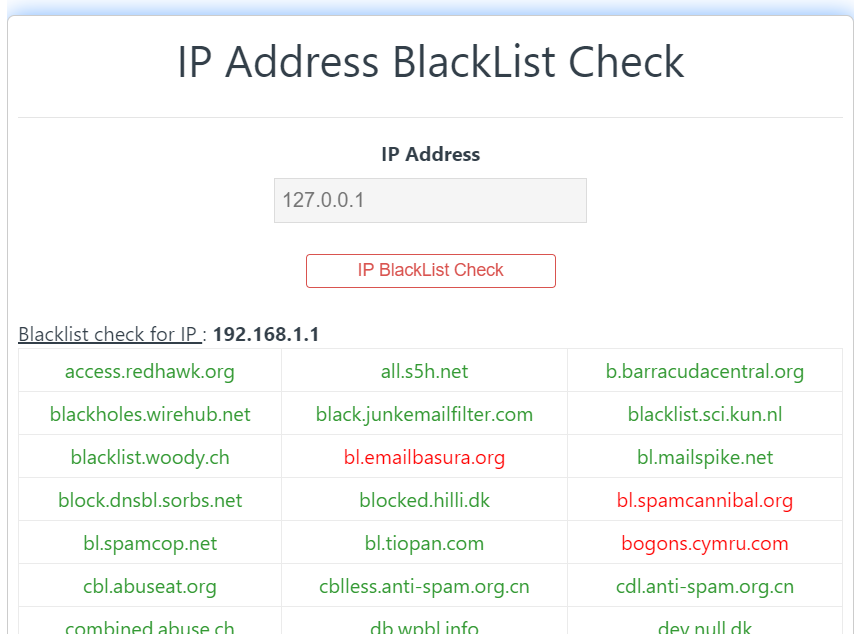 What are the reasons for IP address getting blacklisted?
There are several reasons for your IP address on a blacklisted list. Your IP may be listed on only one blacklist or may be contained on multiple blacklists as well. Each IP blacklist is maintained separately and is not controlled by a central source. Each may have different standards for listing / delimiting IP addresses.
If your IP address is blacklisted, it does not mean that there is a reason for concern. Sometimes it automatically add any IP address assigned through DHCP. DHCP IP addresses are primarily how almost all residential connections are connected to the Internet. Business accounts are likely to be assigned static IP addresses.
We do not maintain a blacklist, but here are the main reasons why your IP Address may be blacklisted. Virus, Malware, Spam or any other malicious activity. If you have found a virus or malware and your computer is continually pinging or trying to communicate with other computers. You are bound to hit the network where the administrator will see your 'attack,' block your IP address and report accordingly. If you send spam or run a mail server that not configured correctly and it allows spam to send. To clarify, that IP address gets blacklisted.
If you have your DHCP (Dynamic Host Configuration Protocol) IP address and you are not a spammer and do not have a virus, then it is possible that the person who had your IP address before you, were infected by virus or was a spammer. Only the ISP knows who had the IP address before you specified it. You may not have done anything wrong.
How to prevent IP address from blacklisting?
Some steps can be taken to prevent your IP from being blacklisted:
Keep your business information up to date.
Protect your server list of best practices such as strong passwords, closing open ports, and user admins.
Secure your IP by obtaining SPF records. This type of DNS record only allows domains or IPs to which you want to send an email. When a hacker tries to send spam by spoofing your IP, verification will fail, and spam will not be sent out.
Occasionally, an email recipient may report your email as spam. If enough recipients do this, your IP may get blacklisted. To help prevent this, you can ask recipients to whitelist your email domain.
What are the impacts & How to de-list or remove IP Address from blacklist
It depends. If you are an average home user, keeping your IP address on a blacklist will probably not make any difference to your daily surfing plan; however, if you are a businessman and run your mail server. You may have problems. You will need to make sure that every device on your network is clean and that your mail server is configured correctly. Also, the mail server is locked, so users cannot send messages from unauthorized users.
Make sure that not any device in your network is infected. After you have determined your network is clean and no unauthorized traffic is flowing. Find out where your IP address is blacklisted by using "IP Address BlackList Check" tool and contact them to remove it. Each blacklist will have different ways to request IP removal. And just because you have requested an eviction, does not mean that they will honor your request.
When you have found that the IP address is on a "blacklist", it is also necessary to report this to the relevant Internet Service Provider (ISP) of that IP address. In many cases, this is the provider where you purchase an internet subscription for the home or business address.
If you do not know who the ISP is, you can look up the relevant IP address on home page.
In the field for ISP (Internet Service Provider), you will see the company name of the relevant internet provider.
The relevant internet provider must request the " de-listing " for you as they own and manage the relevant IP address.
The administrator of a " blacklist " only accepts requests for a " de-listing " from the owner of the relevant IP address.
As soon as this has been correctly processed, the relevant IP address (if free from " malicious " activities) will be released again.